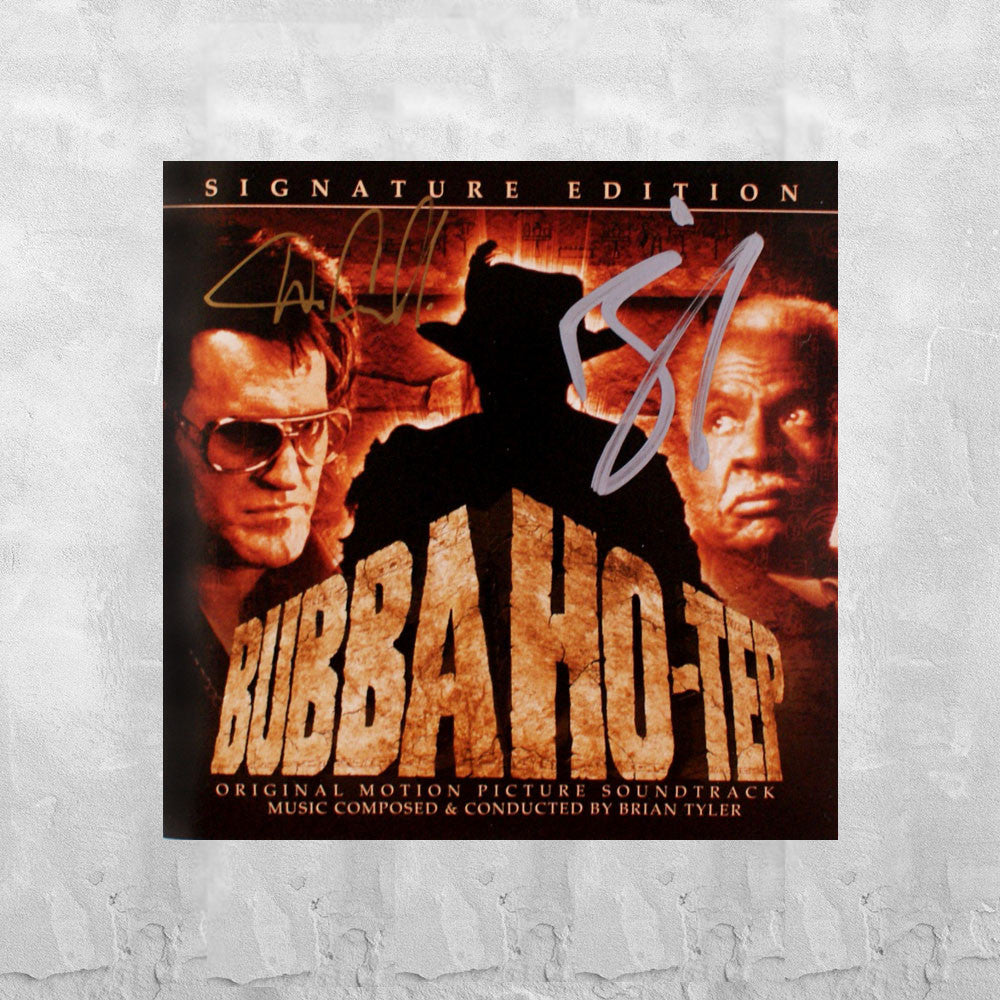 Bubba Ho-tep Autographed Soundtrack CD
VERY RARE! Another find from the vaults! Original, out-of-print, 2004 autograph release of the amazing Bubba Ho-tep soundtrack CD. Autographed on the cover by composer Brian Tyler and writer/director Don Coscarelli.  We have just a few copies of this amazing item. A genuine collectible!
Very Limited Quantity
Near mint condition. Still sealed in shrinkwrap.
Track List:
1. Prologue (0:55)
2. Bubba (0:51)
3. The King (2:09)
4. Let's Go, Man (1:49)
5. The King's Highway (2:09)
6. A-C-T-I-O-N (2:30)
7. Bubba's Lament (1:42)
8. The Ancient Curse (1:45)
9. Ghost of the Scarab (1:01)
10. Trailer Park (2:01)
11. One Bad Bo-Tep (1:29)
12. The Mask of Kemosabe (2:05)
13. The Shady Rest (0:53)
14. PBBS (2:01)
15. Baby (0:44)
16. The Hero's Hallway (1:36)
17. Elder Hole (2:07)
18. Flashback Baby (1:38)
19. Body Bag Of Fun (1:18)
20. Regret (0:53)
21. The Mummy's Eye (1:58)
22. Smokin' Nurse (1:48)
23. The Decision (0:57)
24. Death Of A President (1:04)
25. The Sebastian Haff Show (1:11)
26. Haff Rising (1:12)
27. Investigation (1:24)
28. Thank You Very Much (0:41)
29. All Is Well (2:15)
30. Bubba Ho-Tep End Title Themes (5:40)
Total Duration: 49 mins 46 secs
Sale of autographed memorabilia: as required by law, a dealer who sells to a consumer any memorabilia described as being autographed must provide a written certificate of authenticity at the time of sale. A written certificate of authenticity is provided with each autographed collectible, as required by law. This dealer may be surety bonded or otherwise insured to ensure the authenticity of any collectible sold by this dealer. (Please note that we are not surety bonded or otherwise insured)